Wall Click & Lock Installation Guide
Please inspect the planks prior to installation. Contact customer service before installing if there are any cosmetic concerns. Read instructions thoroughly before beginning installation. Instructions must be followed in order for warranty to remain effective.
Required tools and materials:J-roller, 4' level, TSP (trisodium phosphate) for cleaning sub wall, a pencil, saw (miter saw, jigsaw, hand saw with miter box), a hammer & a few finishing nails.
The planks can be installed on any structurally sound, clean, dry, and flat surface. To install as flooring, please refer to flooring installation instructions.

Cement block, plaster, plywood and gypsum surfaces should have a minimum of one coat of primer sealer prior to installation. If you are installing in a bathroom, it is highly recommended to use a brad nailer into the studs in addition to the pre-applied adhesive.

Do not install Wallplanks in a steam room, sauna or as a shower wall.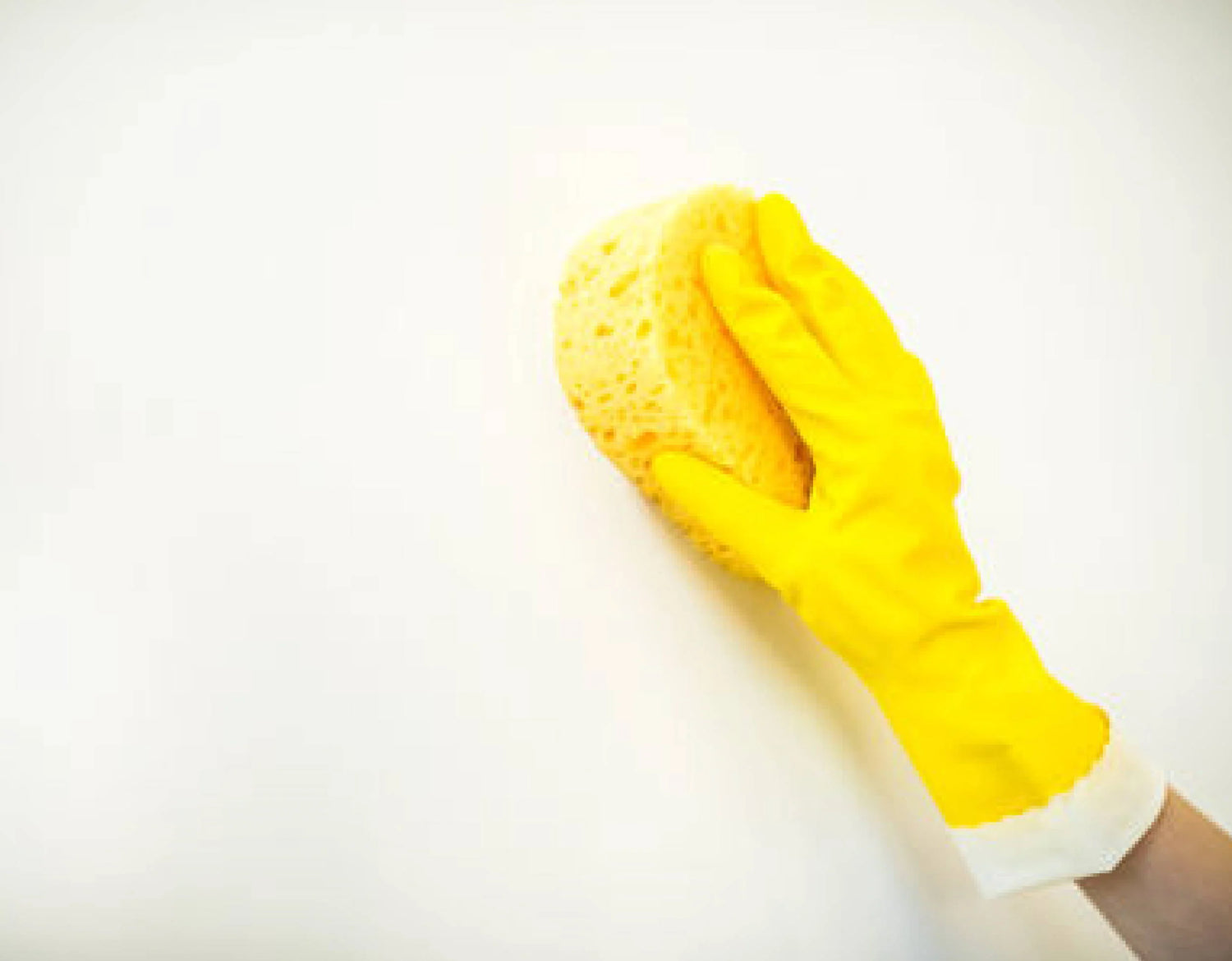 1. Clean and dry the surface
Turn off power to installation area while working around wall outlets and light switches. Remove electrical cover plates, protruding nails and loose paint. Sponge wash with TSP (trisodium phosphate), available in hardware stores or home centers, to remove residues of greasy grime, mildew, chalked paint or anything that might affect the bond of the VacuuBond™ adhesive. If wall has a heavy drywall texture, it will need to be block sanded and primed so the VacuuBond™ adhesive can achieve a firm bond. Wallplanks can be installed over well bonded smooth wallpaper. Textured wallpaper should be removed and wall cleaned with TSP prior to installing wallplanks. After the wall are thoroughly cleaned, the walls also must be thoroughly dried. For extra assurance, you may apply From The Forest primer.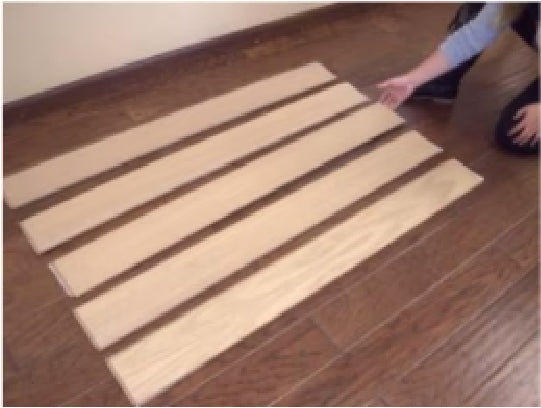 2. "Dry Lay" the planks
Work from several open boxes and "dry lay" before permanently installing to create your desired look. We recommend dry laying your planks to ensure that the color mix, staggering pattern and board sizes are aesthetically pleasing.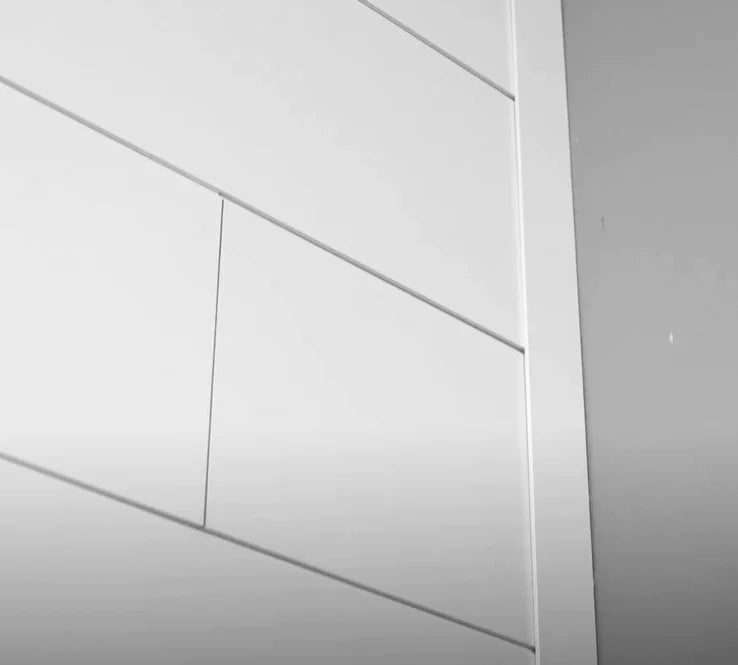 3. Adding trim pieces
 For walls that have outside corners, a trim piece may need to be purchased separately to create a finished look. If trim pieces are needed on your project, measure 1 3⁄4" back from where you wish the wall to end and then draw a vertical plumb line using your level. This line will be your guide to where the planks need to be cut. The trim piece is made to overlay the edges of the plank and should be nailed to the wall using small finishing nails after the entire wall is installed.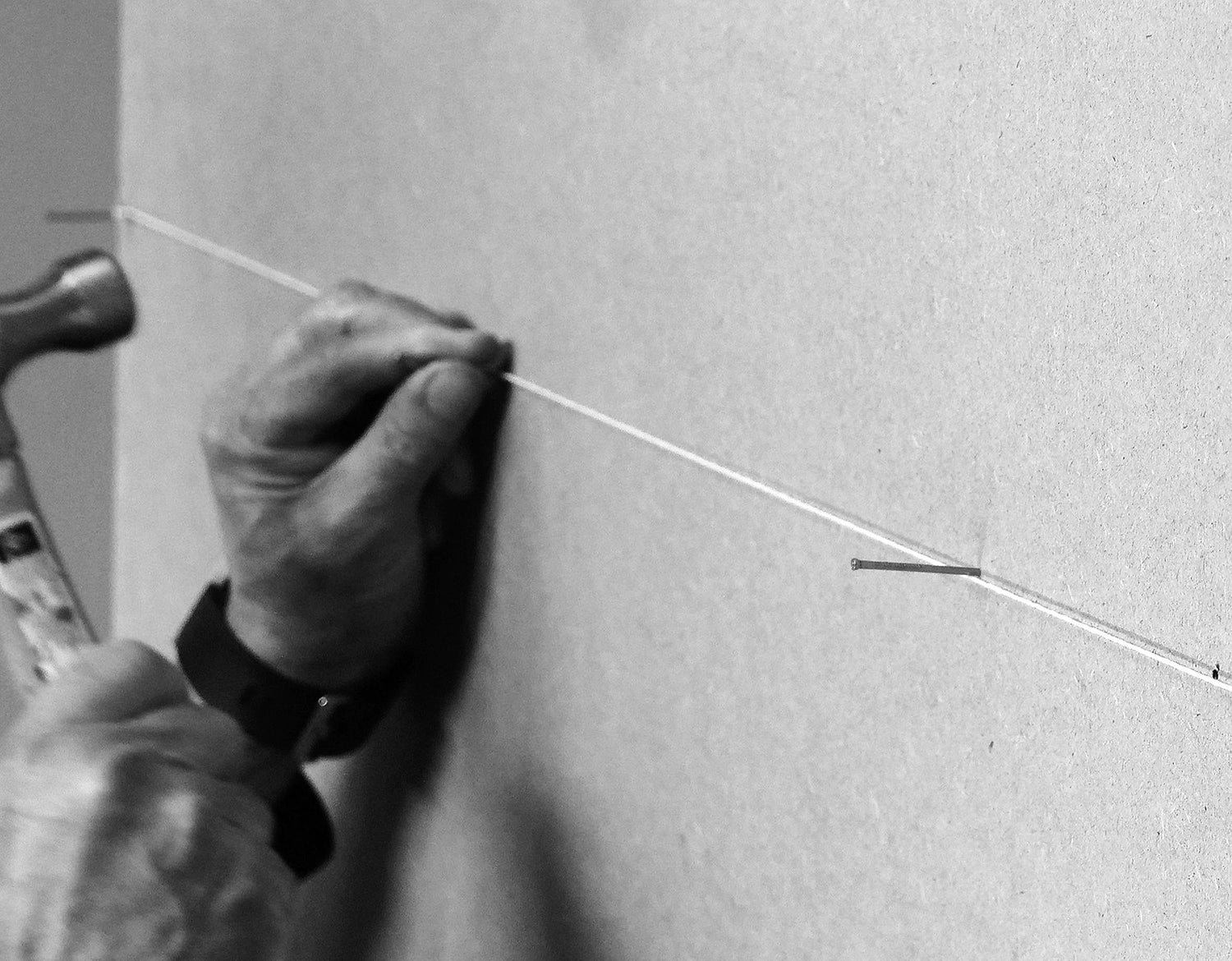 4. Establish your starting line
There are multiple ways you can establish your starting line. The most important aspect of establishing your starting line is to ensure that the first row of planks you install is 100% level. If your baseboard and ceiling are level, you can use one or the other to establish your starting line. If neither your baseboard or ceiling are level, you will need to establish a level line across the wall. With the use of a pencil and a 4' level, you can establish a starting line across your wall at eye level. DO NOT adhere the plank until you have it placed in the right position. Once the material is adhered to the wall it will be very difficult to reposition.  
Tip 1: Do not adhere planks until they are placed in the right position. Once the material is adhered to the wall, it will be very difficult to reposition.

Tip 2: To help ensure an absolute straight starter line with the first plank, we recommend you tap 1 1⁄2" finish nails halfway into the wall along the starting line at every 12". The protruding nails will help position the starter planks along the starting line before they are adhered to the wall. This procedure will not be possible when installing over a block wall. Use extra caution to ensure your first row is straight if you are not able to use nails as a guide.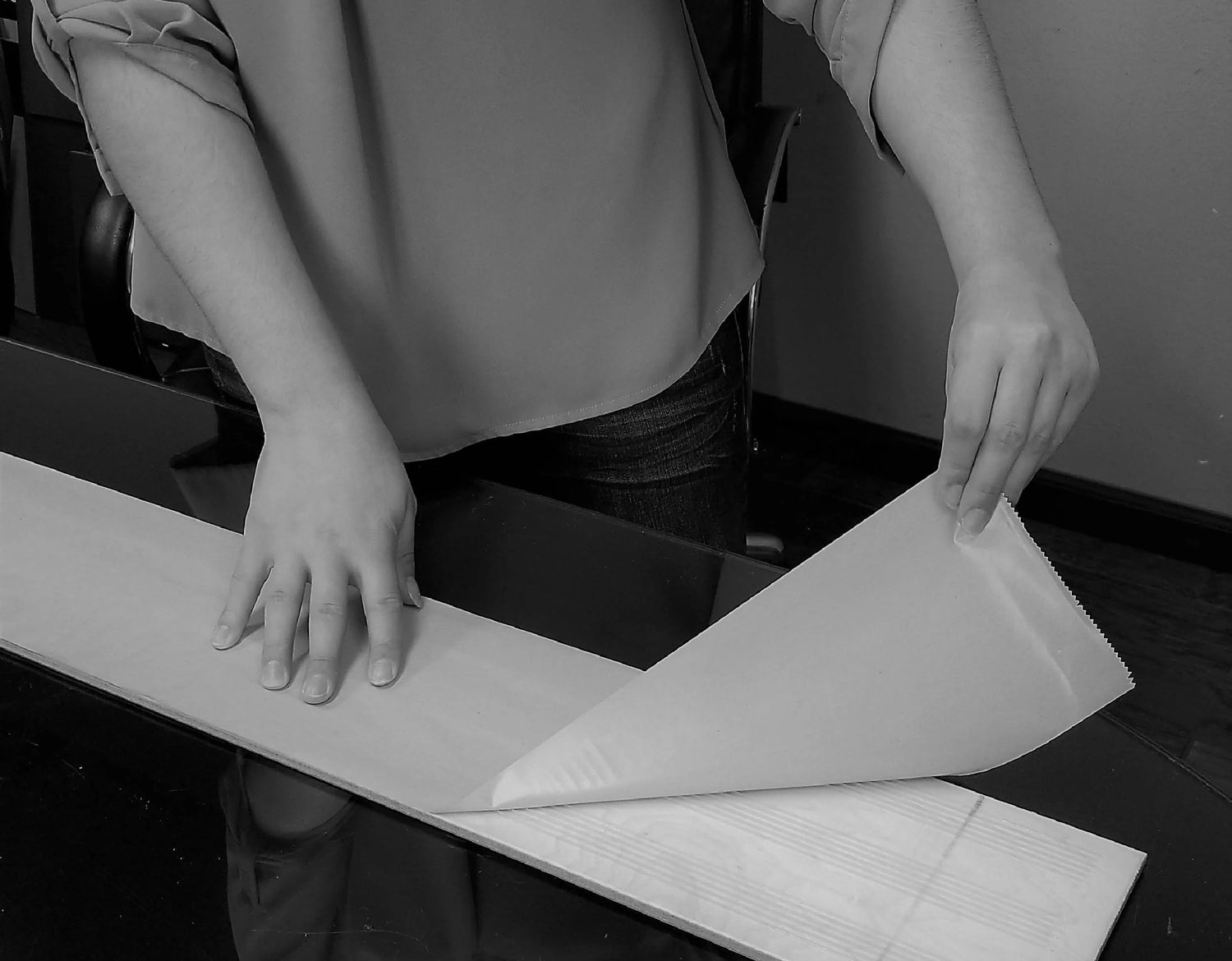 5. Applying the planks
Starting on the left side of the room, and using the starting line (and nails) as a guide, peel the paper off the VacuuBond™ adhesive and position the starter row planks groove side up, along your line. Press into place and immediately use the J-Roller over the plank surface. If you placed positioning nails in the wall (Step 4), remove them at this time. When applying the next row of planks underneath, approach the shiplap joint at a 45% angle and interlock appropriately. If applying the next row above the first one, be careful to only overlap the underlying shiplap joint. Please note: a 1/4" expansionspace around the parimiter of the installation is required. Trim can be used to cover this for a more aesthetically pleasing installation.
10. J-Roller
To help set the VacuuBond™ adhesive after the installation is complete, the wall must be rolled using a J-roller to insure the bond. Not using a J-roller can lead to failed adhesion. If a trim piece is used to finish the installation, it can now be installed. Refer to Step 3 for trim installation instructions.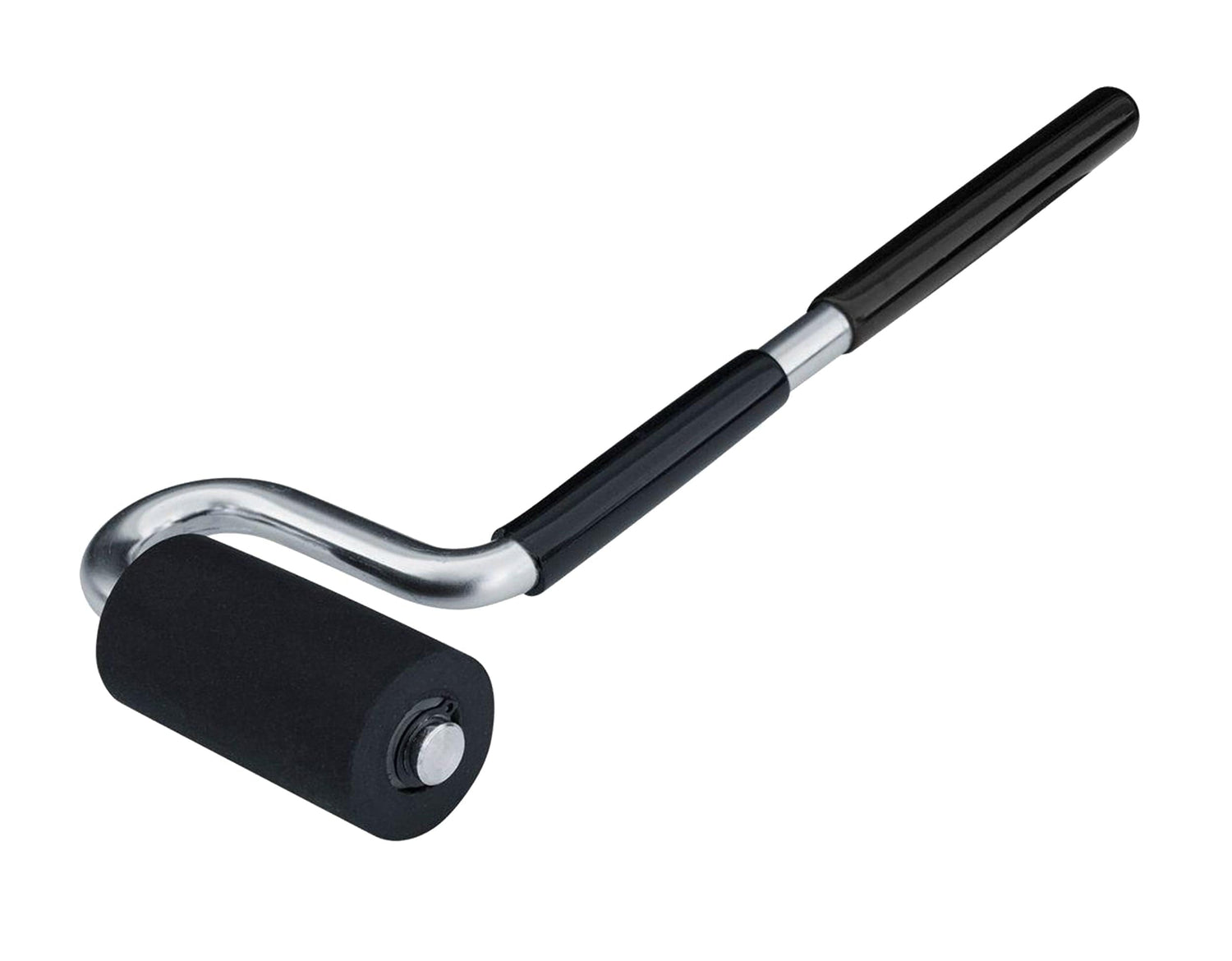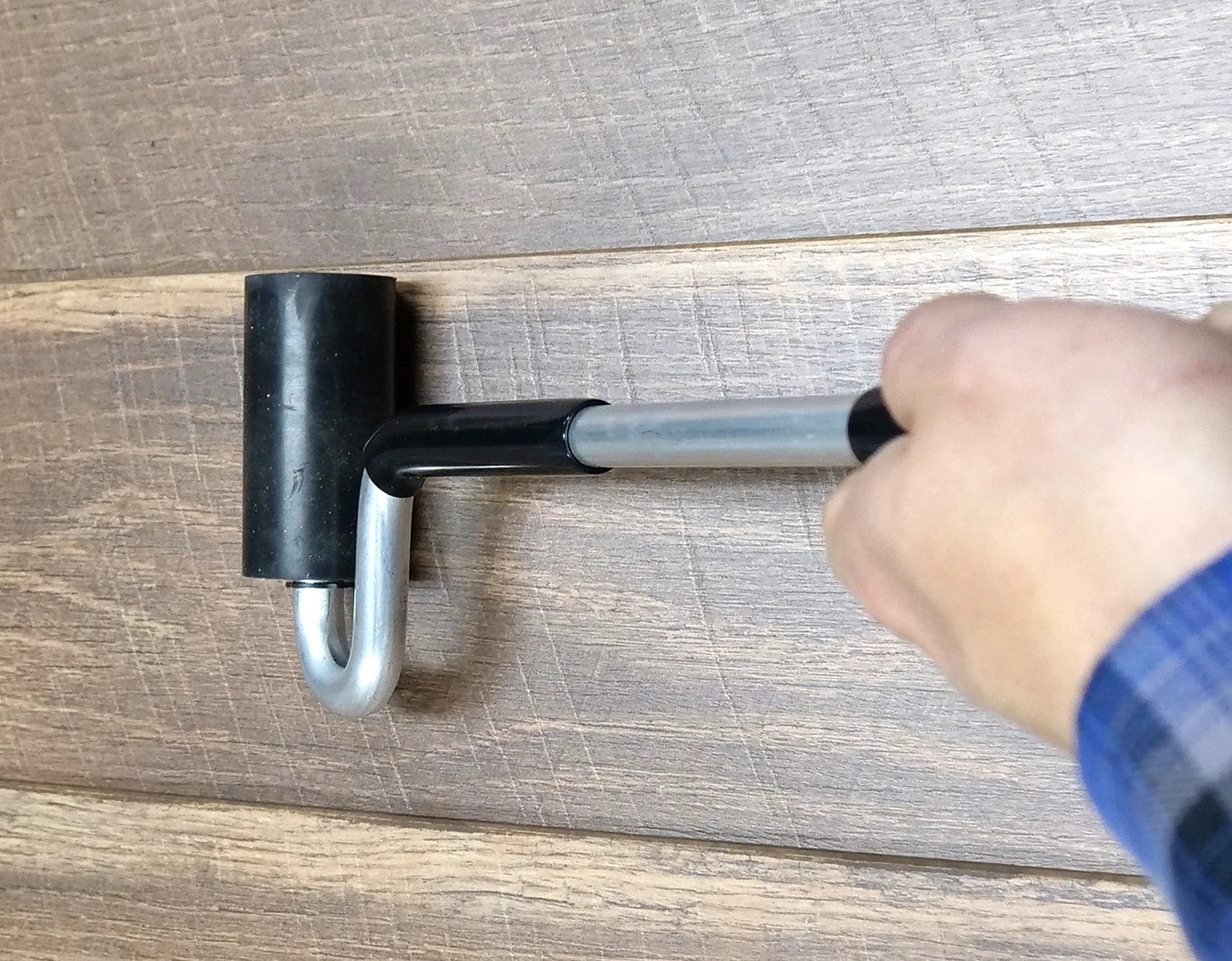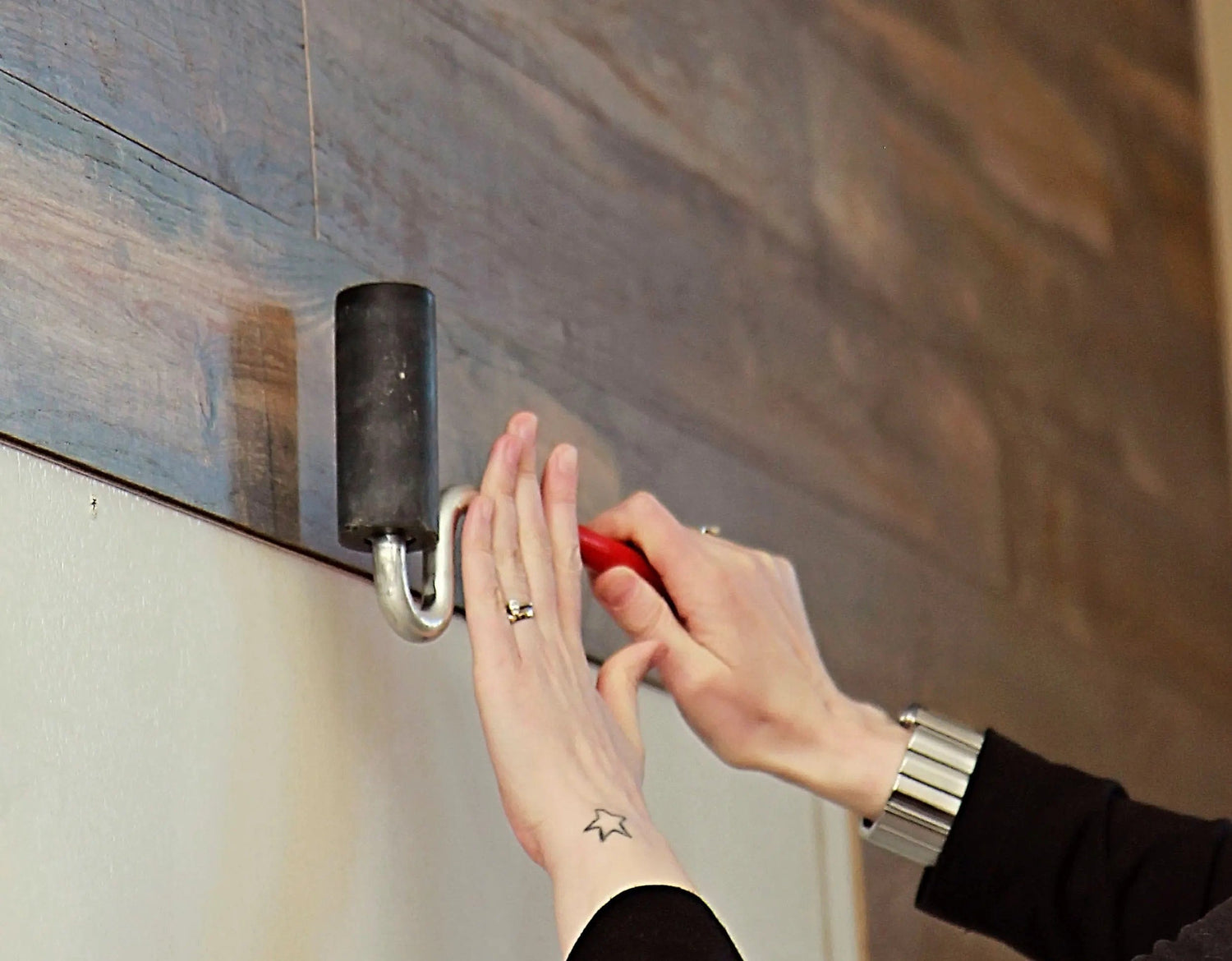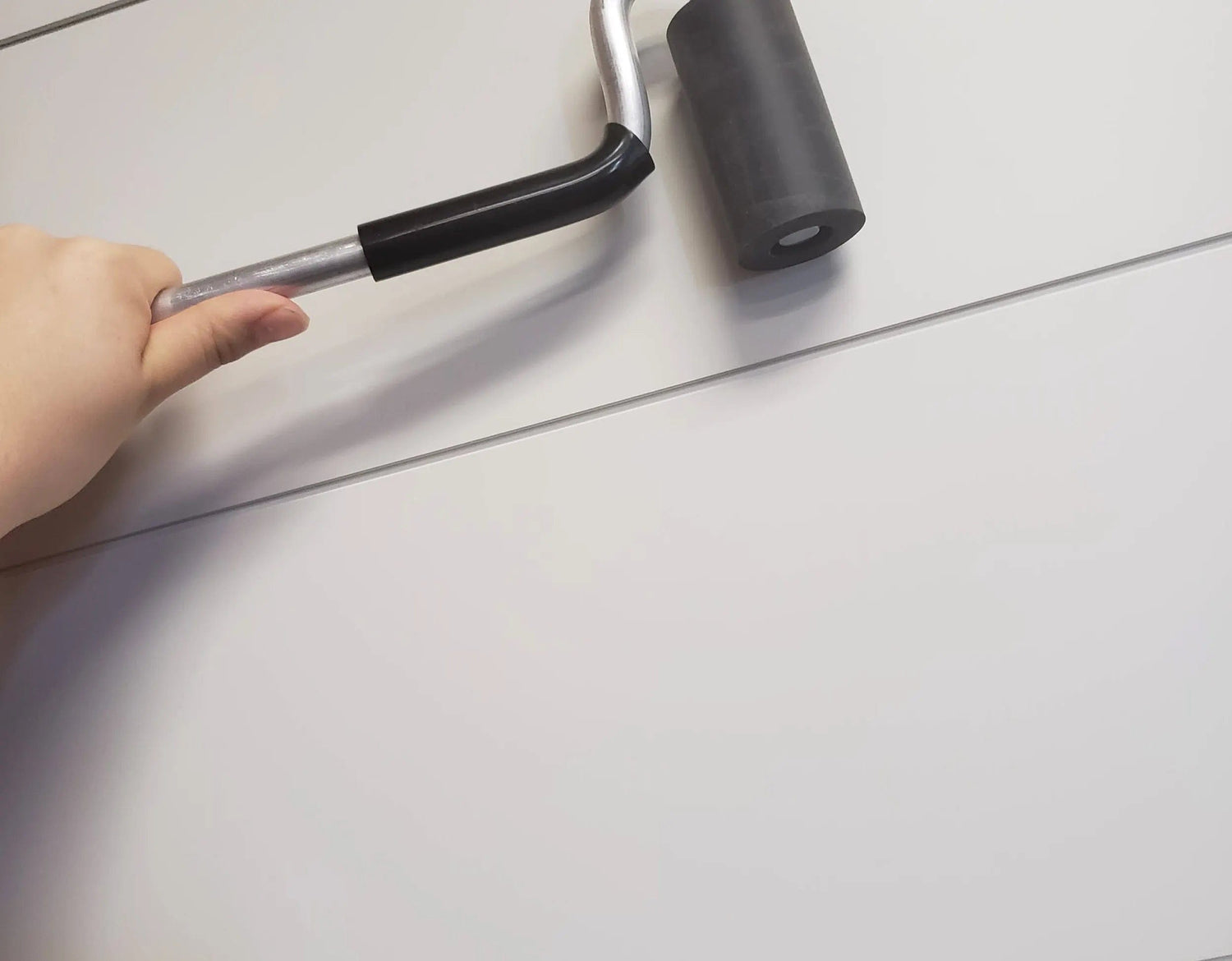 J-Roller *Important Installation Tool*
Regular price

Sale price

$18.99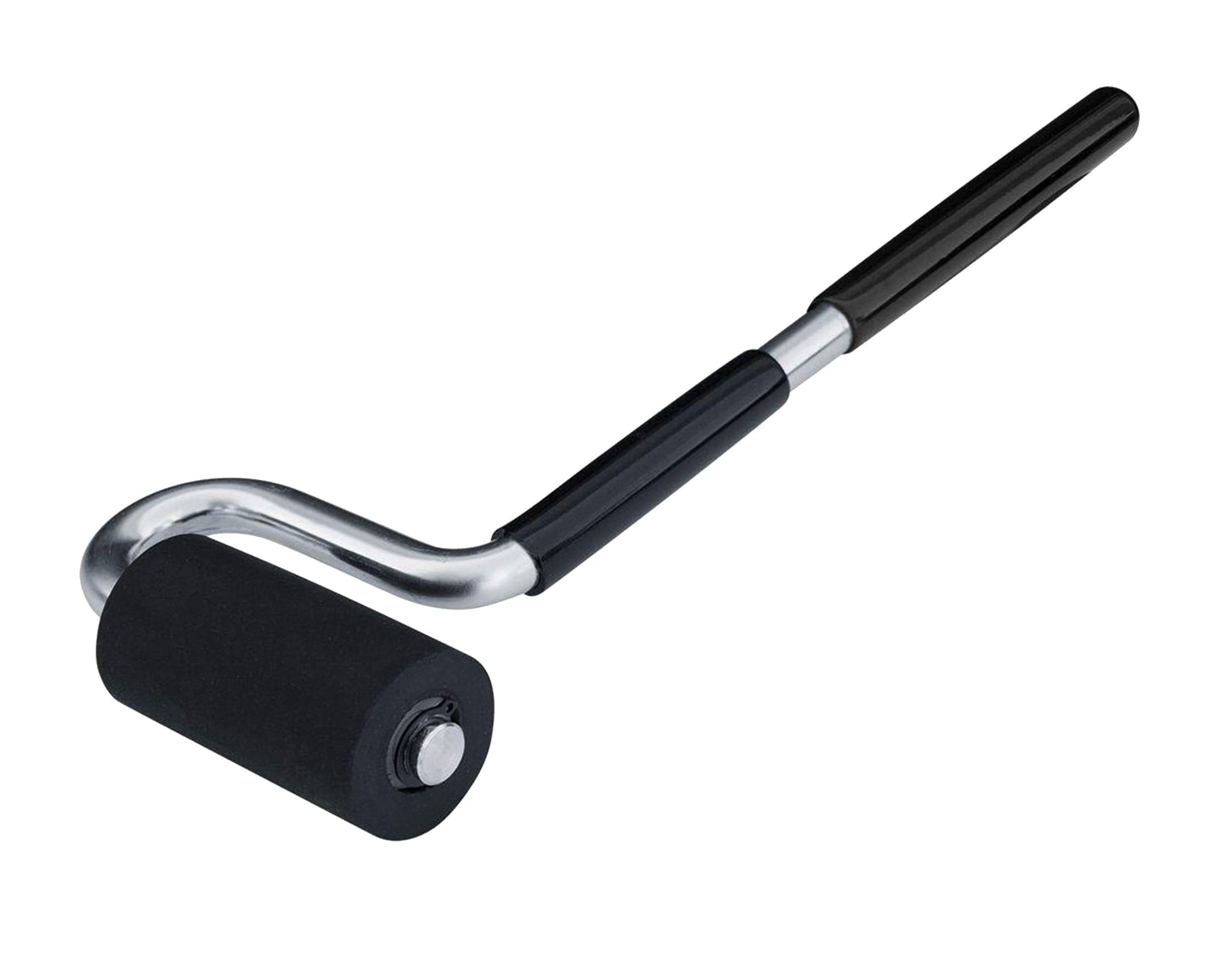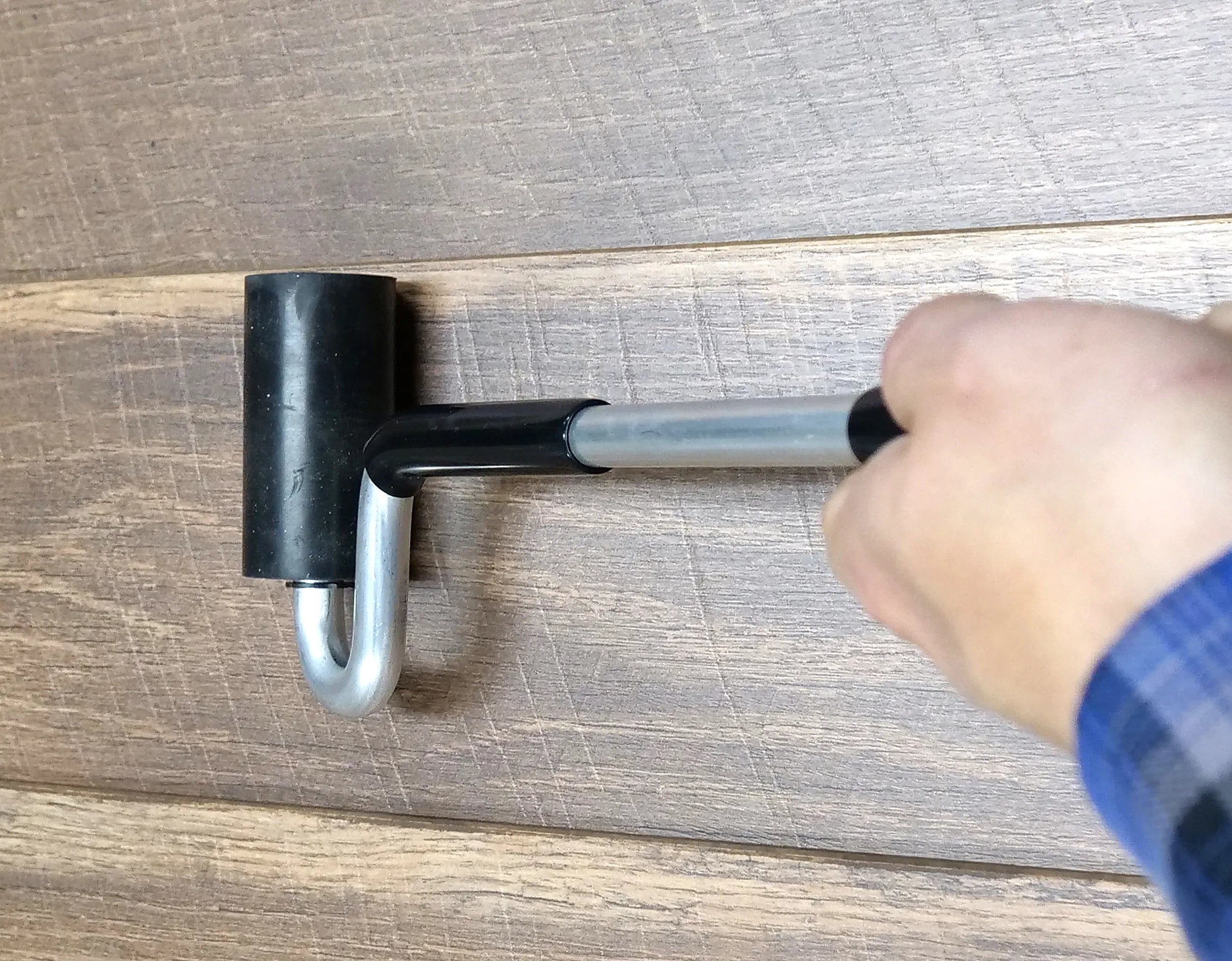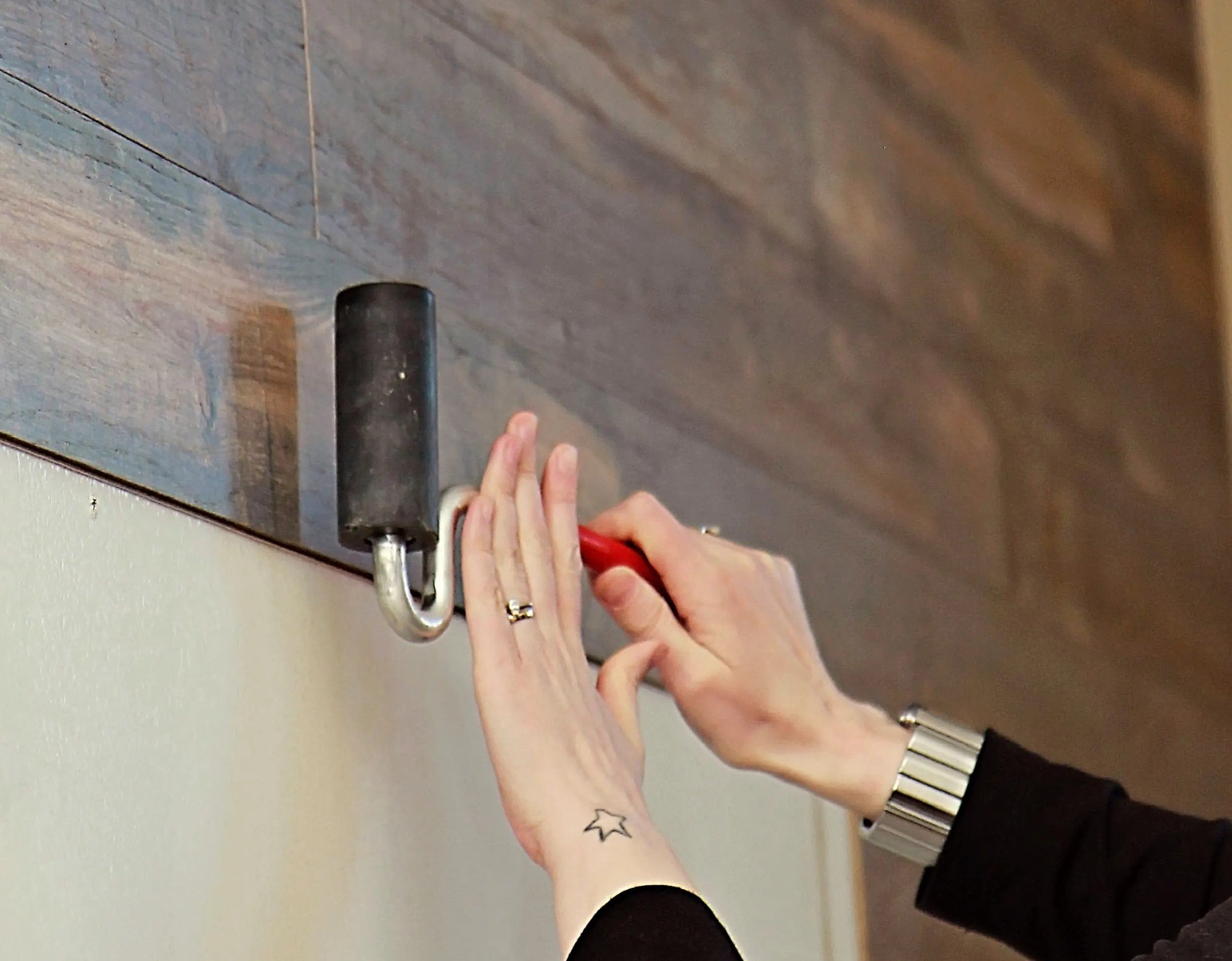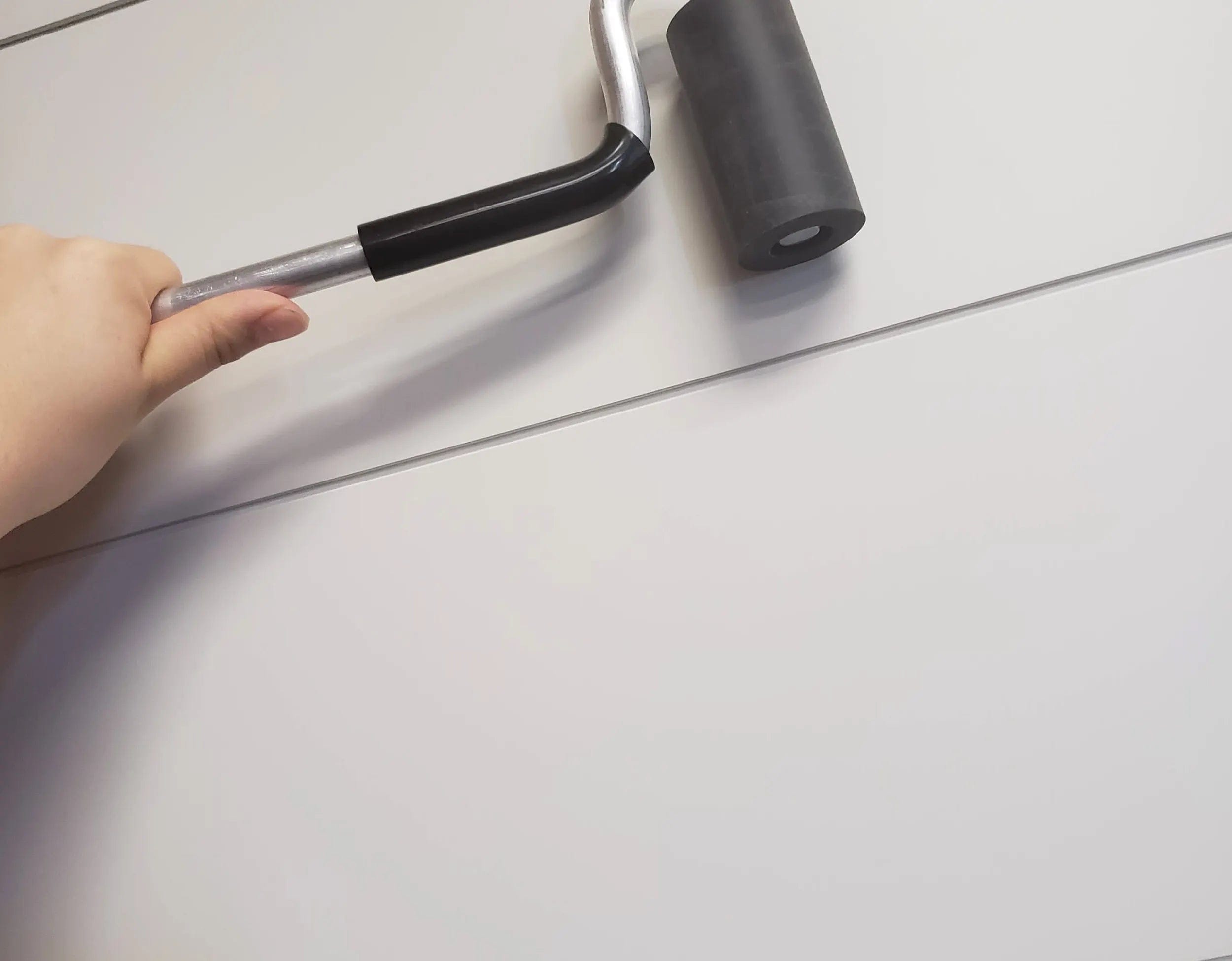 11. Ceiling Installations
For installation on ceilings, follow steps 1-10 and use 1" brad nails every 16" on the left and right side of the plank to further secure the planks to the ceiling. Or watch our affiliates ceiling installation video here.
TIP: For extra assurance and added protection, apply primer to your wall prior to installation and use a nail gun with 1" brad nails in addition to the VacuuBond™ pre-applied adhesive. If needed, you may use some filler and a touch up marker to blend the nail hole in with the finish.